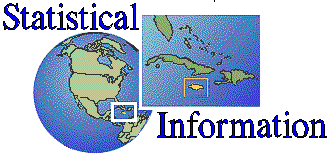 ---
Below you will find a selection of statistical information about Jamaica. When You have looked it over return the About Jamaica page to get information about specific areas and subjects.
If you have fun facts of your own that you feel should be included e-mail us and help us grow.
---
Land
Area: 10,991 sq km (4,244 sq mi).
Capital City - Kingston
Largest city - Kingston (1987 est. pop., 646,400).
Elevations
Highest--Blue Mountain, 2,256 m (7,402 ft)
Lowest--sea level, along the coast.
People
Population (1992 est.): 2,506,701
Population Density: 228 persons per sq km (591 per sq mi).
Distribution (1992): 51% urban, 49% rural.
Annual growth (1992): 0.9%.
Languages: English, Creole (Patois)
Major religions: Anglicanism, Protestantism, Roman Catholicism.
Education And Health
Literacy (1990): 98% of adult population.
Life expectancy (1992): women--76; men--72.
Infant mortality (1992): 18 per 1,000 live births.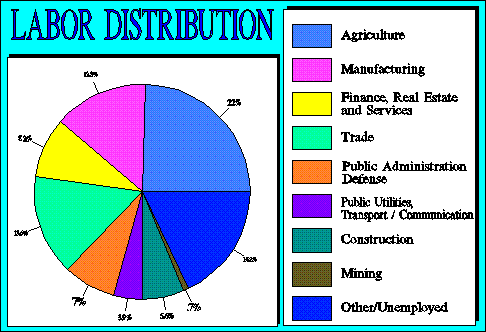 Labor distribution (1990):
Economy
GDP (1991 est.): $3.6 billion; $1,400 per capita.
Foreign trade (1991): imports--$1.8 billion; exports--$1.2 billion
Principal Trading Partners:

United States

United Kingdom

Canada

Venezuela

Japan

Trinidad and Tobago.
Currency: 1 Jamaican dollar = 100 cents.
Government
Type: independent state within the Commonwealth.
Government Leaders
Howard Cooke--Governor-General
Percival J. Patterson--Prime Minister.
Legislature: Parliament.
Political subdivisions: 14 parishes.
Communications
Roads (1988): 4,738 km (2,944 mi)
Primary; 11,690 km (7,264 mi) Secondary; 1,497 km (930 mi).
Major ports: 2.
---

For Additional Information contact webmaster@fantasyisle.com
Copyright © 2000-20055 Ibis Too Co. Ltd. and Fantasyisle.com
Revised: March 12, 2004.