---
Let Fantasyisle Show You Jamaica

See Our Rates Below For Tours and Airport Transfers

We Sponsor Only Reputable Tour Companies and Taxi's Great Tour Guides!!

For Bookings & More Information

Check Some of Our Tours Below,

Email us and let us know where you are staying and particulars about your trip and we will send you rates

We cannot price trips unless we know where you are staying.

We also do great airport transfers.

Our drivers are JUTA certified, with spacious vans including A/C
---
ALL TOURS START AND END IN NEGRIL

PRICES QUOTED ARE FOR TRANSPORT ONLY

(entrance fees, meals, accommodation etc. are extra)

ALL PRICES ARE QUOTED IN US DOLLARS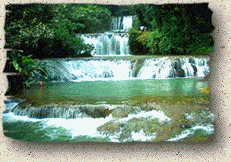 Y. S. FALLS & BLACK RIVER
South Coast Adventure. Enjoy this relaxing boat ride through the mangrove/swamp on the Black River where you can admire exotic tropical birds & crocodiles. After lunch on a hilltop restaurant with a magnificent view over the lush countryside, you'll be thrilled by the beauty of Y.S. Falls. A swing into the clear, cool water will fill this trip with adventure. A ride through the famous Bamboo Avenue will conclude your tour. There is an option for touring the Appleton Rum Factory or a trip to Treasure Beach (no rafting).

@$80 1-3 persons, 4 or more add $20 per person
---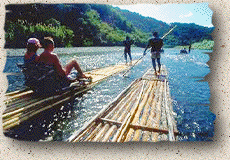 YS FALLS, BLACK RIVER, LOVERS LEAP & TREASURE BEACH
Paradise Realized! A romantic river ride on bamboo rafts in a more intimate, unspoiled surrounding compared to the usual commercialized rafting. After lunch on the breathtaking cliffs of Lovers Leap which is known for a local Romeo & Juliet story, the trip continues on to Treasure Beach, a beautiful & rustic south coast white sand beach.
$120 FOR 1-3 PERSONS, 4 OR MORE ADD $30 PER PERSON (entrance fee $5 per person).
---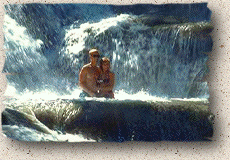 OCHO RIOS & DUNN'S RIVER FALLS
Fun On The North Coast! You'll experience the famous & most visited attraction in Jamaica. Climb beautiful, tropical Dunn's River Falls which overflows right into the deep blue waters of the Caribbean. After the climb, a shopping spree through the Ocho Rios craft market which offers a wide variety of Jamaican souvenirs.
$150 for 1-3 persons, 4 or more add $50 per person (entrance fee $15 per person, early departure essential)
---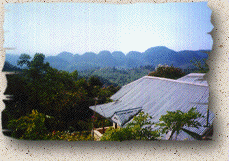 MAYFIELD FALLS / MOUNTAINS
Nature Lovers Dream! Natural & peaceful this stress free tour through the lush Jamaican countryside will carry you over over green, rolling hills to the valley of the Mayfield Falls. After a refreshing walk through the river area & natural falls, an authentic Jamaican dish will be prepared for you & plenty of time to "Tan So Back"(Jamaican for sit back & relax).
$60 for 1-3 persons, 4 or more add $20 per person (entrance fee $10 person)
---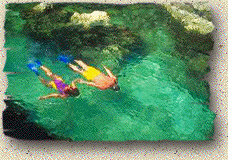 NEGRIL SURROUNDINGS
Visit Negril and go snorkeling off the Cliffs.
OTHER GREAT JAMAICAN TOUR OPTIONS
DOLPHIN COVE TO SWIM WITH THE DOLPHINS
$10 PER PERSON ENTRANCE FEE $10 PERSON TO SWIM WITH THE DOLPHINS $75 PER PERSON, RESERVATION NEEDED)
RHODES PLANTATION HORSEACK RIDING
$40 1-4 PERSONS (1 TO 1 1/2 HRS RIDE THRU PLANTATION OF BANANAS, COCONUTS, PAPAYAS, ETC AND ALONG THE BEACH. rIDING FEE $50 PER PERSON)
ROYAL PALM RESERVE
$40 1-3 PERSONS, 4 OR MORE ADD $10 PER PERSON. FOR BIRD WATCHING, AGE OLD ROYAL PALMS AND THE GREAT MORASS, ENTRANCE FEE REQUIRED PER PERSON)
NEGRIL HILLS GOLF CLUB
$40 1-4 PERSONS SUPERB 18 HOLE COURSE, ALL EQUIPMENT PROVIDED, GREEN FEES, CART RENTAL, ETC. RATES ON REQUEST.
---
KINGSTON-Bob Marley Museum or Blue Mountains (Sangster's Rum Factory), Rythmn and Roll in Our Capital, Laden in History and People.
PORT ANTONIO-Frenchmans cove, Blue Lagoon Exotic Snorkeling in Blue Peaceful Waters, Somerset Falls Spilling Out of the Mountains and Surrounded With Tropical Splendors, or Rio Grande Bamboo Rafting Peaceful Trails Through Exotic Forests and Abundant Wildlife..
OCHO RIOS-Dunn's River Falls Spectacular Falls, Friendly to All Our Visitors, Children to Seniors. Climb Us in Joyous Fun. The Falls Spills Out Into Our Beautiful Dunn's Fall's Beach.
---
AROUND THE ISLAND-3 DAY TOUR
KINGSTON-Bob Marley Museum and Blue Mountains . East Coast - Reich Falls
Overnight accommodations.
PORT ANTONIO-Frenchman's Cove Setting For Many Famous Movies (check our hotel listing), Blue Lagoon Best Snorkeling in Calm and Peaceful Waters, Exotic Somerset Falls
BLUE MOUNTAINS - Rustic within a Coffee Plantation, Explore Our Beautiful and Verdant Mountains, Absolutely the Other Side of Jamaica, Extremely Tropical, Pastoral, Exotic, Will Take Your Heart Away,
OCHO RIOS-Dunn's River Falls, Great Shopping, Tours, History
3 DAY TOUR, $600 FOR 1-4 PERSONS, PLEASE CHECK US FOR SPECIFICS ON TOUR
---
SOME RATES

Our Rates Vary According to Point of Departure and # in Party

Tours Are Private For Your Group
AIRPORT TRANSFERS QUOTED ROUND TRIP ONLY

MO BAY AIRPORT TO NEGRIL ONE WAY (1-3 RIDERS) $120

MO BAY AIRPORT TO NEGRIL (4 OR MORE) ($20 PER PERSON)

MO BAY AIRPORT TO OCHO RIOS ONE WAY 1-3 RIDERS ($70)

MO BAY AIRPORT TO OCHO RIOS ONE WAY (4 OR MORE) $30 PER PERSON

KINGSTON AIRPORT TO MONTEGO BAY $250 ONE WAY (1-3 RIDERS)

EMAIL US FOR A QUOTE. RESERVATIONS ARE A GOOD IDEA!!!

Do You Have Any Tour Requests? Have You Taken Tours Before On Our Beautiful Island. Let Us Know If You Have Comments or Suggestions!!

We will publish your comments and try to accommodate your suggestions..
---