BEAUTIFUL NEGRIL VILLA FOR SALE
Own a Piece of Paradise
email the owners: jamaica@fantasyisle.com
575-613-2533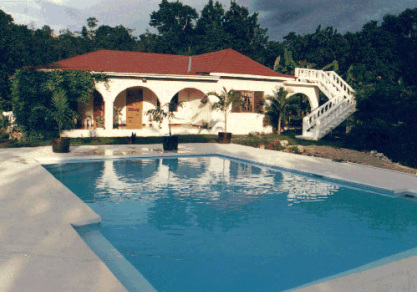 WELCOME TO IBIS TOO VILLA
LOCATED ON NEGRIL'S FAMOUS WEST END
WESTCLIFF ESTATES

Luxurious Pool with Underwater Deck 20 x 32
4' to 8' Deep Surrounded by Large Decks which house Enormous Water Cisterns Pool Light for Evening Swims 180 Degree Sea View Quiet Private and Peaceful


---

2 Acres, Mature Fruit Trees, Private Pastoral Development, Close Proximity to Downtown


---

Large Living/Dining Area Tile Floors, Custom Ceiling Cedar and Maho
Opens to Front Patio and Pool


---

Living Room Opens Into Spacious Kitchen Area. Villa is being sold unfurnished.


---
_
ABOUT OUR NEGRIL JAMAICA PROPERTY FOR SALE
Our property is situated a couple of miles past the lighthouse. The land breaks out into Westcliff Estates (the West End Road goes beyond Ricks to the Lighthouse into Westcliff Estates and circles around through Hogg Blvd to Mt. Airy and back down to the roundabout by Sweet Spice).
Westcliff Estates is a private development with only upper level homes and quiet hotels...no squatters...all land privately owned. Hogg Blvd is just past The Westender (the old Hogg Heaven) and we are the 2nd home on the right as you go up the hill). We are the 2nd low plateau up.
We have two acres bordered by Beaver Lane, Honeycomb Circle and Hogg Blvd. The villa is on the top acre with 180 degree sea view. Our home is 2200sq ft. with 3 BR and 2.5 baths with large kitchen and dining/living area.
Our pool is very large and surrounded by decks with large water cistern beneath decks.
We also have a studio cottage on property.
Bottom acre is partially developed and sold separately. (We originally had plans on developing 2 smaller guest units on the lower acre.
Environment is pastoral and still designated agricultural so taxes are low.
We built the home in the late 80's early 90's and lived there for almost 10 years. We marketed the villa as a vacation rental and successfully built a clientele from all over the world. We marketed the concept to
small quiet groups and families. Our clientele loved the close proximity to the beaches, but removed from the hussle and bussle of downtown...they loved the pool and privacy.
The property has mature fruit trees and beautiful views. There is an observation deck on the roof.
ASKING PRICE: $395,000.00 US
top acre with buildings, landscaping and pool.
There is an additional bottom acre adjacent with separate survey for sale at $75, 000 US
We recently renovated the property...New roof, new ceilings, windows,doors, fresh paint etc.
We are not renting the property.
We are interested in a cash sale.
There are plans to build a marina on seaside (just 1/4 mile from the house) which will change the value of the home and all properties,
increasing in value.
Please let us know when you go down and we will set up with our manager to have you view property.
CONTACT INFORMATION:
jamaica@fantasyisle.com
575-613-2533