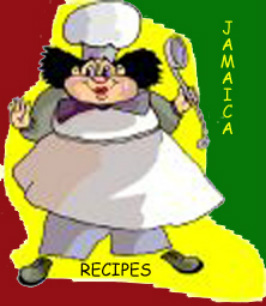 _
CHECK OUR FREE SUMMER 2012 RECIPE BELOW... JUST A SAMPLE FROM OUR FANTASYISLE IRIE COOKBOOK..ON SALE NOW


HERE IS HOW TO ORDER YOUR COPY OF FANTASYISLE.COM'SJAMAICAN RECIPE BOOK..."THE FANTASYISLE IRIE COOK BOOK"

IS CHOCK FULL OF TASTY JAMAICAN IRIE RECIPES STRAIGHT FROM THE ISLANDS, MON!!!

---
_
ORDERING IS SIMPLE

1) INCLUDE YOUR CHECK OR MONEY ORDER FOR $40.00 (Checks must clear before we mail it out)
2) MAKE PAYABLE TO: taostaos.com
3) MAILING ADDRESS:
PO BOX 365
ARROYO SECO, NM 87514
jamaica@fantasyisle.com
NEW RECIPES ARE ADDED ALL THE TIME FROM OUR FANTASYISLE.COM COOKS!!!




OUR RECIPES INCLUDE AN ARRAY OF APPETIZERS, ENTREES AND DESSERTS CHOOSE FROM:

ENTICING SOUPS AND STARTERS

DELECTABLE MEAT AND POULTRY DISHES

TASTY FISH AND SEAFOOD ENTREES

DELICIOUS CHICKEN DISHES INCLUDING OUR FAMOUS CURRIED CHICEN AND JERK CHICKEN MEALS

SUCCULENT VEGETABLE DISHES

FRUIT PLATES AND DESSERTS

TASTY CAKES AND PIES

AND OUR TROPICAL AND SLAMMIN' IRIE COCKTAILS


OUR SPRING SPECIAL IRIE RECIPE
CHEF WENDY LINDO OF WENDY'S BED AND BREAKFAST
NEGRIL
FOR THE VERY BEST JAMAICAN COOKING
WITH AN ENGLISH FLAIR
Write to us at wendybbja@hotmail.com for the best rates, best breakfast, and best irie time in Jamaica.PINCH ME ROUNDSWENDY'S GREAT GIZZADA RECIPE(Pinch-me-rounds) because the edges of the pastry would be pinched together.
Pastry base1 cup flour,3oz marg or butter, 1tbs sugar, 2tbsmilk.
combine together

rollout to 1/8" thick

cut into rounds and fit into muffin tins


Filling1 cup grated coconut,1/2 cup brown sugar,1/2 teasp cinnamon,1/4 teasp nutmeg,1 tsp almond essence,2 teaspwater,1/2teasp lime juice
mix well

fill pastry case half full.

Bake @ 400F for 15 mins till pastry golden brown.